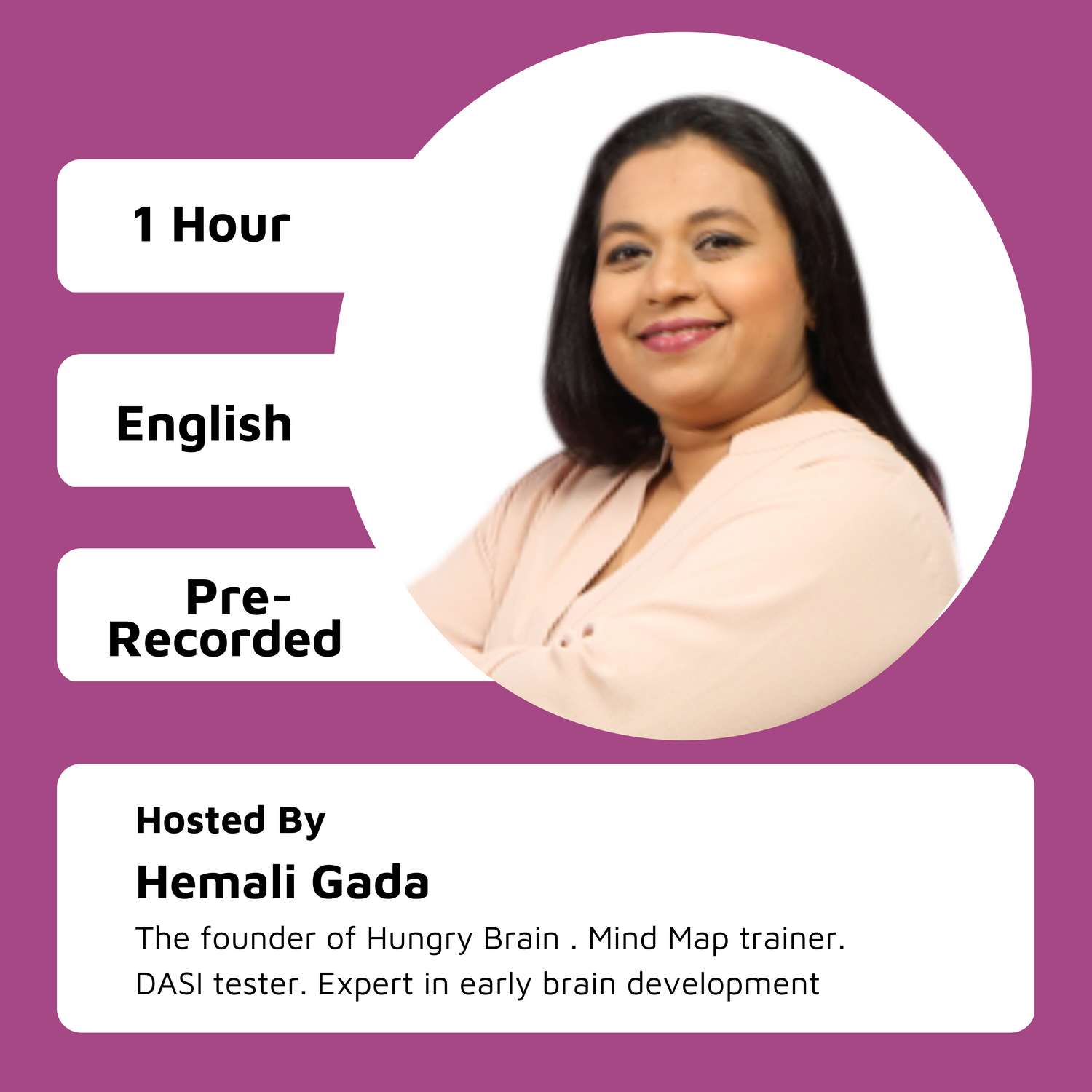 Discover the power of flashcards
Unlock the full potential of your child's learning and development with Flash Cards: The Right Approach parenting course. As a parent, you want to provide the best opportunities for your child to succeed and flourish.
Our pre-recorded course can help you achieve this by showing you how to use flashcards as an effective tool for learning and development
Reserve Your Seat @₹99
The benefits of flashcards and how they can help improve your child's memory, attention, focus, and concentration

How to choose the right flashcards to support your child's learning and development

Methods for using flashcards to develop critical thinking skills and enhance your child's personality

How to create a fun and interactive learning experience for your child with flashcards
What Parents Says
Shivangi Patel

I am using the flash cards since my daughter was 3 month old ……now she is 4months old and she enjoys her flash cards sessions everyday a lot she focuses with great interest on this cards ..
Also edges are very safe for babies ….I am excited to use all the cards and steps provided ♥️🤩

Pooja Jain

Thank u.. So thanks to u nd ur whole team for such a wonderful journey. U have really helped me alot. U were just one call away🤗. I feel so happy nd proud to inform U that Nihaan has done 1000 flash cards on 40+ topics❤️

Hema Chowdhary

A Big thanks to Hungry Brain for providing such a wonderful programs like Early brain stimulation program and Fun with dots and numbers. We are loving these programs and my baby is enjoying the sessions everyday. She is focusing with great interest and trying to reply back with joy. It's nice experience to connect with our baby. These programs increased my baby focus and observation. Hoping that it will be going to reduce my baby's interest in screen time. Once again thanks to Hungry Brain.

Neha Gupta

My daughter was responding to the flash cards for which she made different facial expressions, hands and legs movements. I was seeing a great progress in her after every week and months. I feel the value of this program is very high as compared to what we have paid. So, I recommend all new moms to use hungry brain for your baby as a sup- port system for their brain development.
Thanks!
This course will help parents identify what may be preventing them from achieving their goals for their child.
About the Course
Our expert instructors will guide you through the course modules and provide you with practical tips and strategies for using flashcards to support your child's growth and development. Plus, our course is convenient and flexible, allowing you to learn at your own pace and on your own schedule.
Our pre-recorded course is designed to be convenient and flexible, allowing you to learn at your own pace and on your own schedule. With our expert guidance, you'll be equipped with the tools and knowledge to help your child reach their full potential.
Transform your child's learning and development today by enrolling in Flash Cards: The Right Approach parenting course. With the magical results that flashcards can bring, you and your child will enjoy a lifelong love of learning and discovery.
FAQs
What is Flash Cards: The Right Approach parenting course?

Flash Cards: The Right Approach" is a parenting course designed to teach parents how to use flashcards effectively to enhance their child's early learning and cognitive development. The course provides parents with practical techniques and strategies for incorporating flashcards into their daily routines, as well as guidance on selecting the right flashcards for their child's age and developmental stage
What are the benefits of using flashcards for children?

Increased focus, sharp observation, strong memory, high recall ability, love for learning, high attention abilities.
What kind of flashcards should I use for my child?

Age-appropriate ,real images on the front with white background, curved corners , non-laminated which are safe for baby's eyesight, high quality and sturdy material, food grade material, baby friendly and safe
How can I make flashcard learning fun and engaging for my child?

Use colorful and visually appealing flashcards ,Turn it into a game , Use real-life objects, make it interactive, use variety in the content of the flashcards to keep your child interested. You can use flashcards to teach vocabulary, math, science, or even history.
What age is appropriate for using flashcards?
Is the Flash Cards: The Right Approach parenting course suitable for first-time parents

Yes. it's actually suitable for all types of parents. 
Can I use flashcards with my child even if I'm not a teacher or education professional?

Yes You can. Anybody can make the use of flashcards for their baby and benefit from it.
Can I access the course on my mobile device or tablet?

Yes you can access the course from any device. Mobile, computer or tablet
How can flashcards help prepare my child for academic success?

Flashcards can be a useful tool for preparing a child for academic success by helping them develop important cognitive skills, such as memory and recall, as well as language and vocabulary skills.
What kind of results have other parents seen from using flashcards with their children?
What Payment options are available?

You can directly pay here or you can connect with us on 8879757537 for gpay.